Regular price
Sale price
460.00 QAR
Unit price
per
Sale
Sold out
هذا المنتج الجميل يستخدم أفضل سلسلة من الفولاذ المقاوم للصدأ و المغطى باللون الأسود
تعد علامة " صنع في تسوبامي " من كاليتا هي علامة تجارية ممنوحة فقط للمنتجات التي تتجاوز الشروط في غرفة التجارة و الصناعة
هذا القمع مصنوع يدويا بالكامل من قبل حرفيين مؤهلين في مدينة " تسوبامي - شي " و هي منطقة مشهورة
لصناعة المعادن و الاعمال الفنية
المادة : النحاس
آمنة لغسالة الصحون
صنع في اليابان
View full details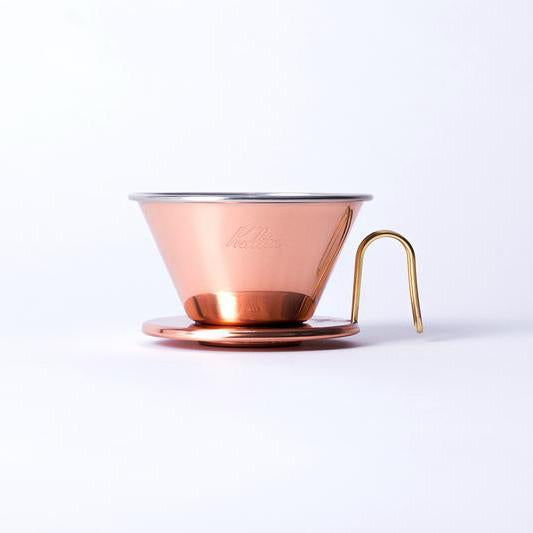 Complete Your Coffee Experience
Customers Also Bought
Regular price

200.00 QAR

Sale price

180.00 QAR

Unit price

per

Regular price

140.00 QAR

Sale price

135.00 QAR

Unit price

per

Regular price

From

255.00 QAR

Regular price

Sale price

From

255.00 QAR

Unit price

per
FAQs
What is a dripper and how does it work?

A dripper is a manual brewing device that allows for a slow and controlled pour over process to extract the coffee. It consists of a cone-shaped holder that sits on top of a coffee mug or carafe, and a paper or reusable filter that holds the coffee grounds.
What is the advantage of using a dripper over other brewing methods?

Dripper coffee provides a clean and nuanced flavor profile, as the slower pour allows for a more controlled extraction of the coffee. Additionally, it allows for more control over the brewing process, making it possible to experiment with different brewing parameters to find your perfect cup.
What are some tips for making the perfect cup of dripper coffee?

Use freshly roasted and ground coffee beans
Use the right amount of coffee and water
Brew at the right temperature
Experiment with different brewing parameters to find your perfect cup.
How long does shipping take?

Shipping times vary based on your location, but on average, it takes 2 hours business days within Qatar and 5-10 business days for international orders.
What payment methods do you accept?

We accept credit cards (Visa and Mastercard), as well as cash on delivery (for orders within Qatar).
How can I get in touch with you?

You can reach our customer service team via email (hello@empirecof.com) or by phone (+974 3331 2268). Our customer service hours are from 9am to 5pm, Sunday to Thursday. You can also reach us through our website's live chat during these hours.