Regular price
Sale price
45.00 QAR
Unit price
per
Sale
Sold out
A small bag of coffee for a better mood all day!
You can make a speedy cup of coffee thanks to this great and easy way to create your daily dose of happiness. Whenever you need to activate your mind for a productive day, you should make a cup of coffee using one of these drip bags with Brazilian coffee, for a full-bodied coffee with a barely-perceptible acidity.
You will be able now to carry with you your drip bag coffee to use it whenever you need a boost of energy. Anything more soothing than that?
5 envelopes for five magical moments with Empire.
Origin: Brazil Amizade
Region: Cerrado
Roasted: Filter
Process: Natural
Altitudes: 1050 - 1500 MASL
Notes: Strawberry, Hazelnut, and Chocolate finish
View full details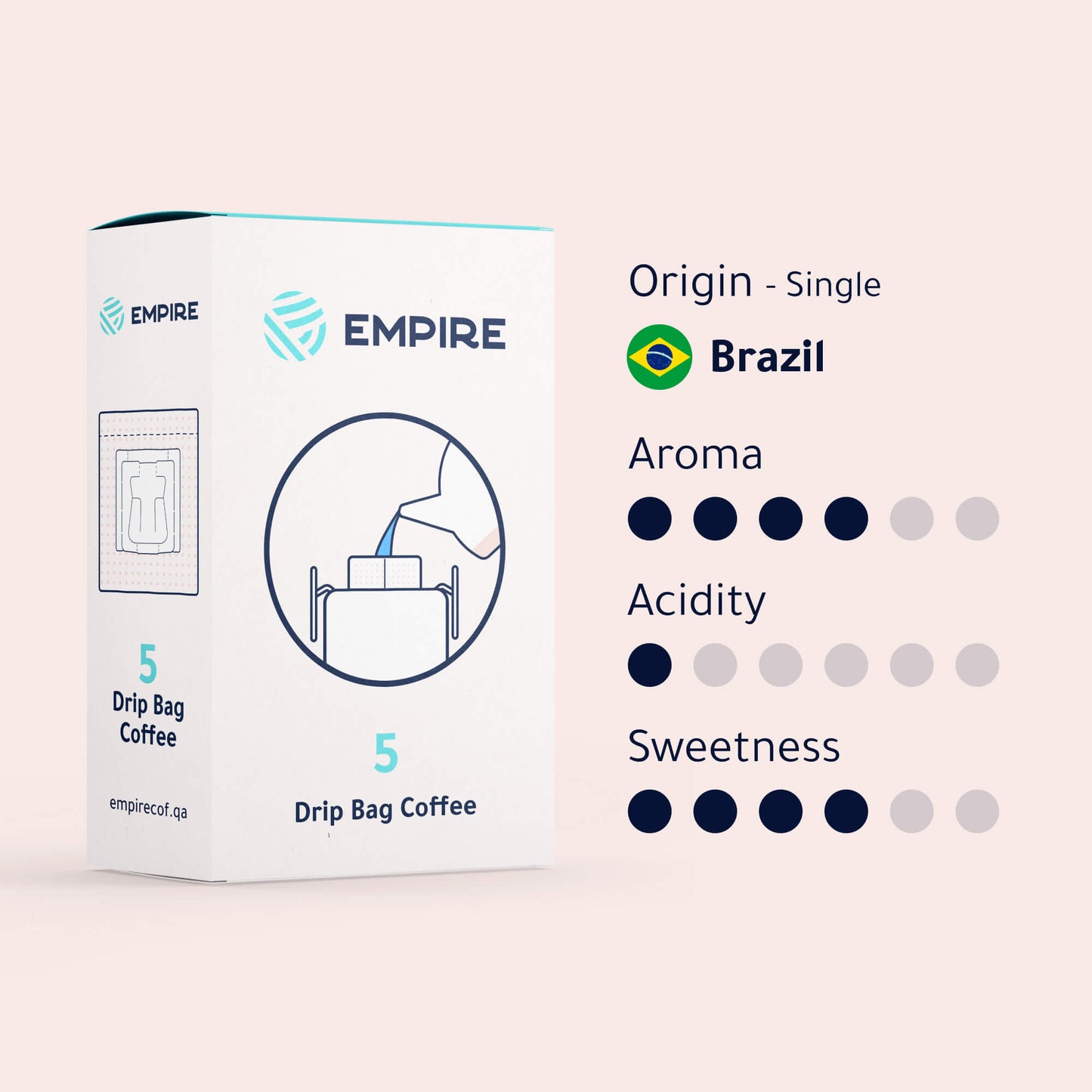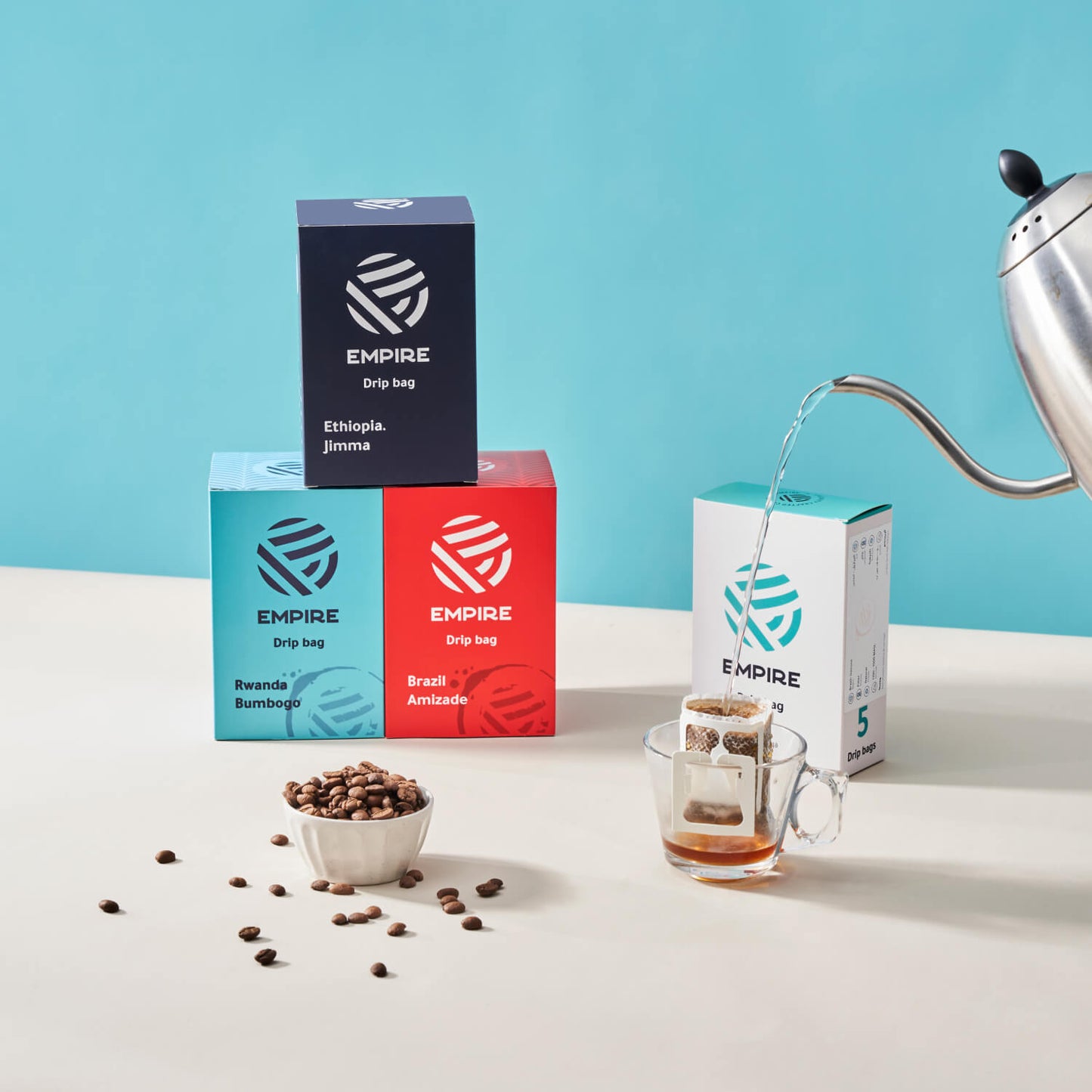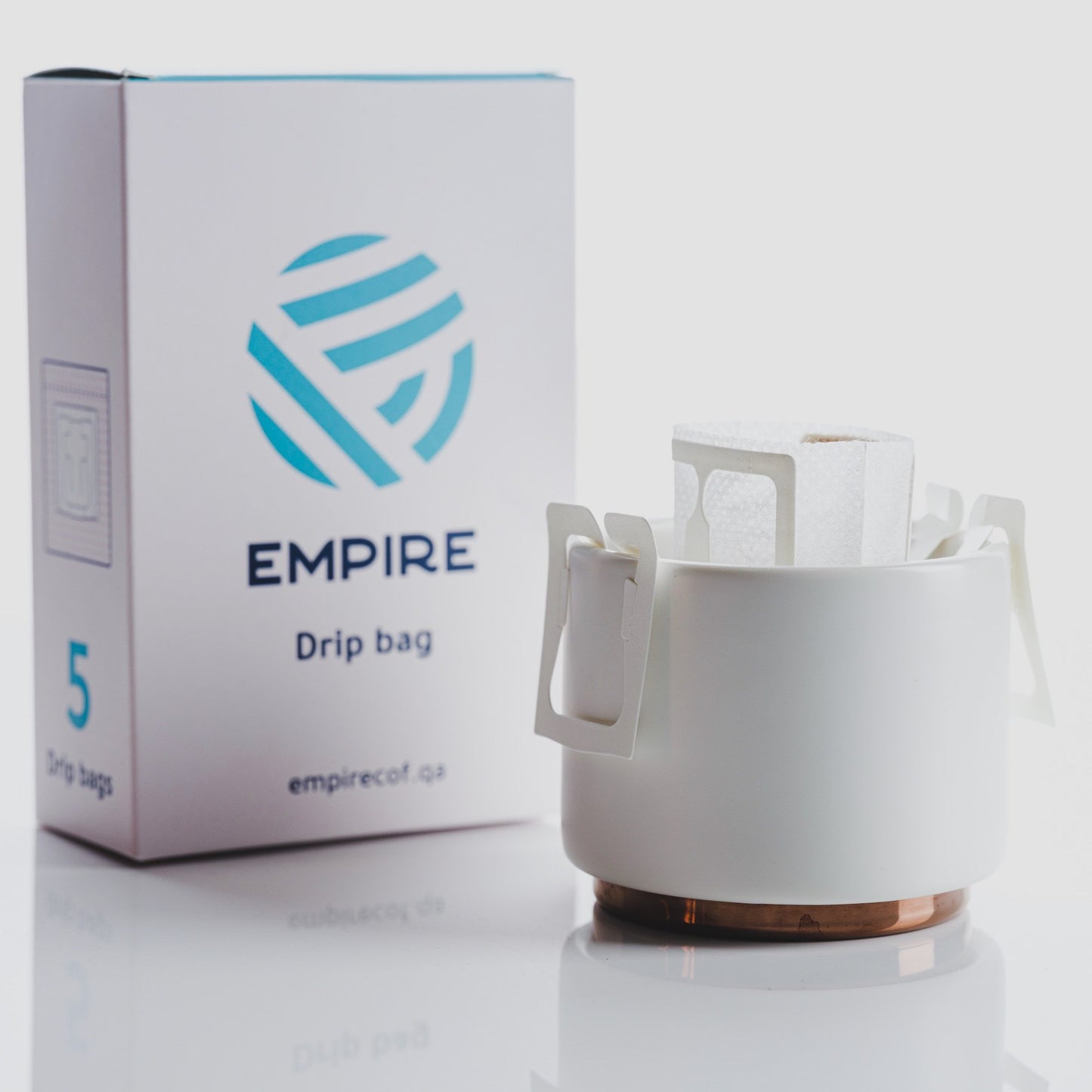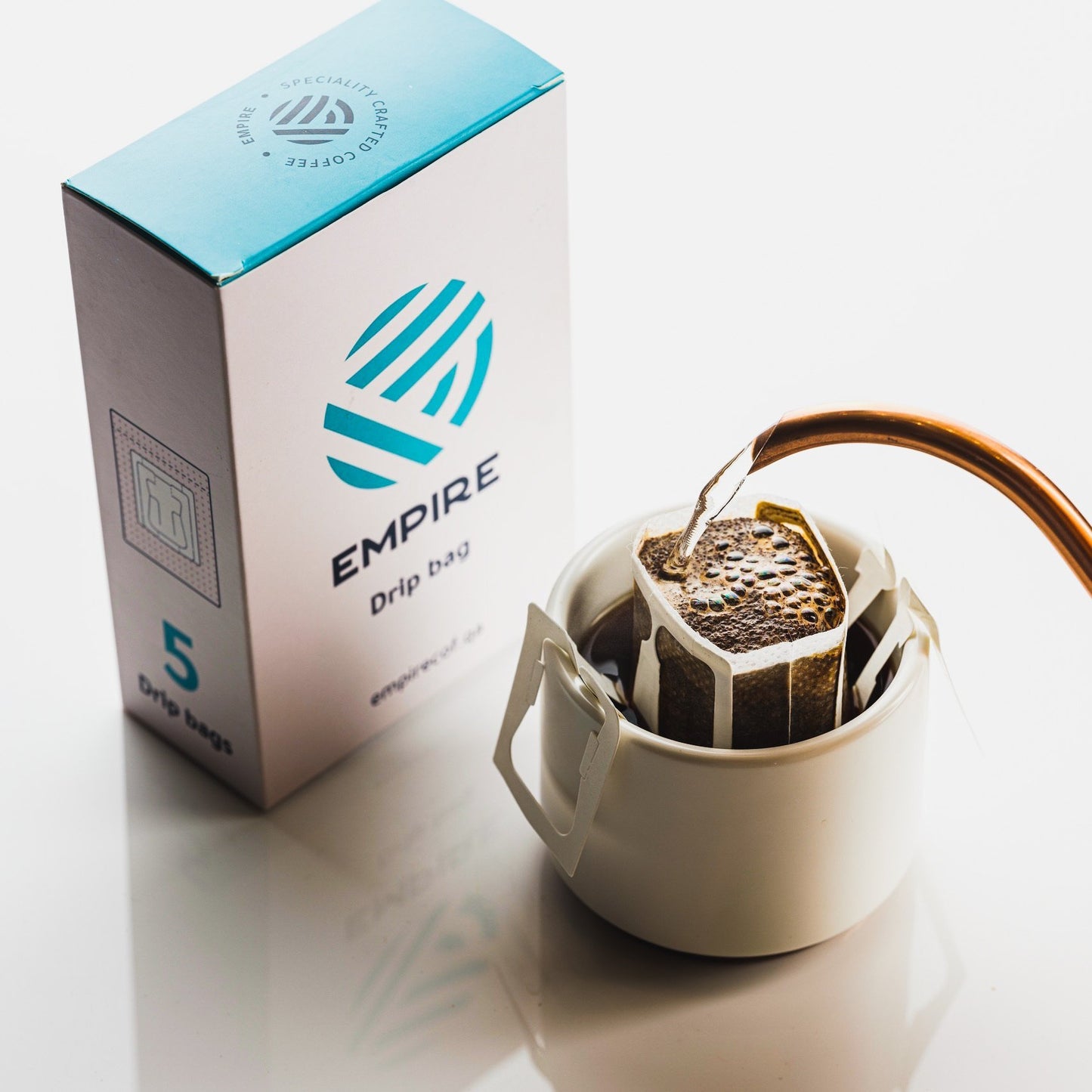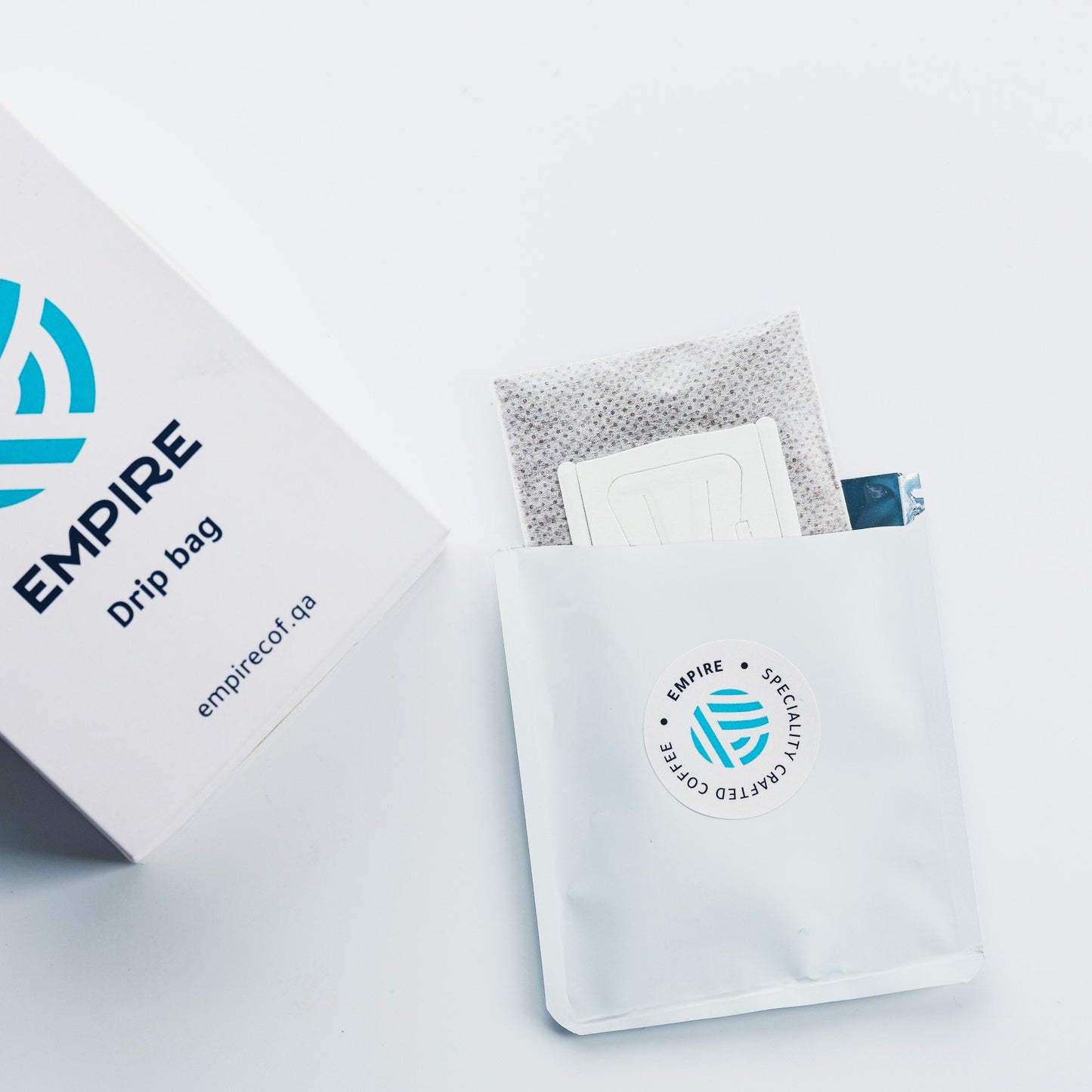 Discover the Unique Qualities of Our Specialty Coffee.
The Perfect Roast

Our roasters are dedicated to creating the perfect cup of coffee. They masterfully roast each bean using traditional techniques and the latest technology to bring out its unique flavor. Whether it's a light, medium, or dark roast, we ensure that every cup is a delicious and satisfying experience. With our passion for roasting and commitment to quality, you can trust that every cup of Empire Coffee will be a masterpiece.
Award-Winning Coffee

We're proud to have received recognition for our exceptional coffee. In 2022, we took home 2nd place in Coffee Magazine's A Shot in the Dark Competition. This award showcases our commitment to quality and passion for crafting the perfect cup of coffee. With each roast, we strive to deliver the best coffee experience possible. Savor the taste of award-winning coffee with every sip of Empire Coffee.
Sustainability at the Core

Sustainability is an integral part of our business. From sourcing our beans from environmentally conscious farmers to minimizing waste in our roasting and packaging processes, we're dedicated to reducing our impact on the planet. We believe that the future of coffee depends on a sustainable approach, and we're proud to be a leader in this field. With every sip of Empire Coffee, you can enjoy a delicious coffee while knowing that you're supporting a company that's committed to sustainability.
High Standard Coffee

Quality is our top priority. We source the finest coffee beans from around the world and roast each batch to perfection, ensuring that every cup is rich, smooth, and flavorful. Our coffee is crafted to meet the highest standards of quality. You can be confident that every cup of Empire Coffee is a taste experience.
Certified for Excellence

We're dedicated to delivering only the finest coffee. Our certifications, including THEQA, IAF, IAS and ISO 2200 & 9001, demonstrate our commitment to providing you with the highest quality coffee available.
Discover Why People Love our Coffee
"Game Changer"

"Drip bag coffee - game changer! No mess, no fuss. Just delicious coffee every time. 10/10 would recommend."

"Convenient and Delicious"

"I love how easy it is to make a perfect cup of coffee with the drip bags. No need for a complicated setup. So convenient!"

"The Perfect Cup On-The-Go"

"I'm so impressed with the quality of the coffee from these drip bags. It's just as good as my local coffee shop. I'll definitely be purchasing more!"
Complete Your Coffee Experience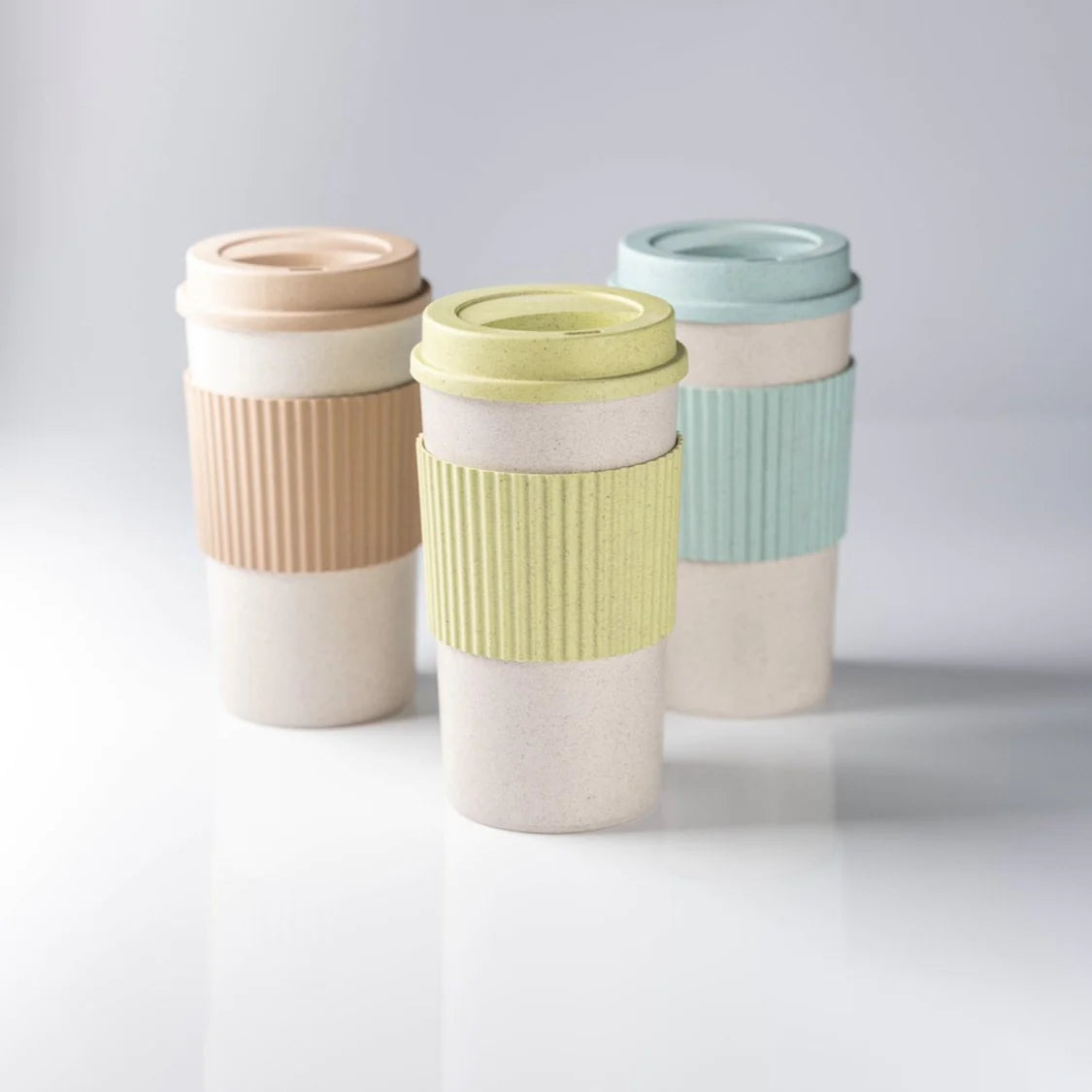 Keka Wheat Fiber Cup
Take your favorite drink with you wherever you go, whether it's to the office, gym, or on a walk, with these eco-friendly cups made from wheat fiber and rice husk fiber!
Shop now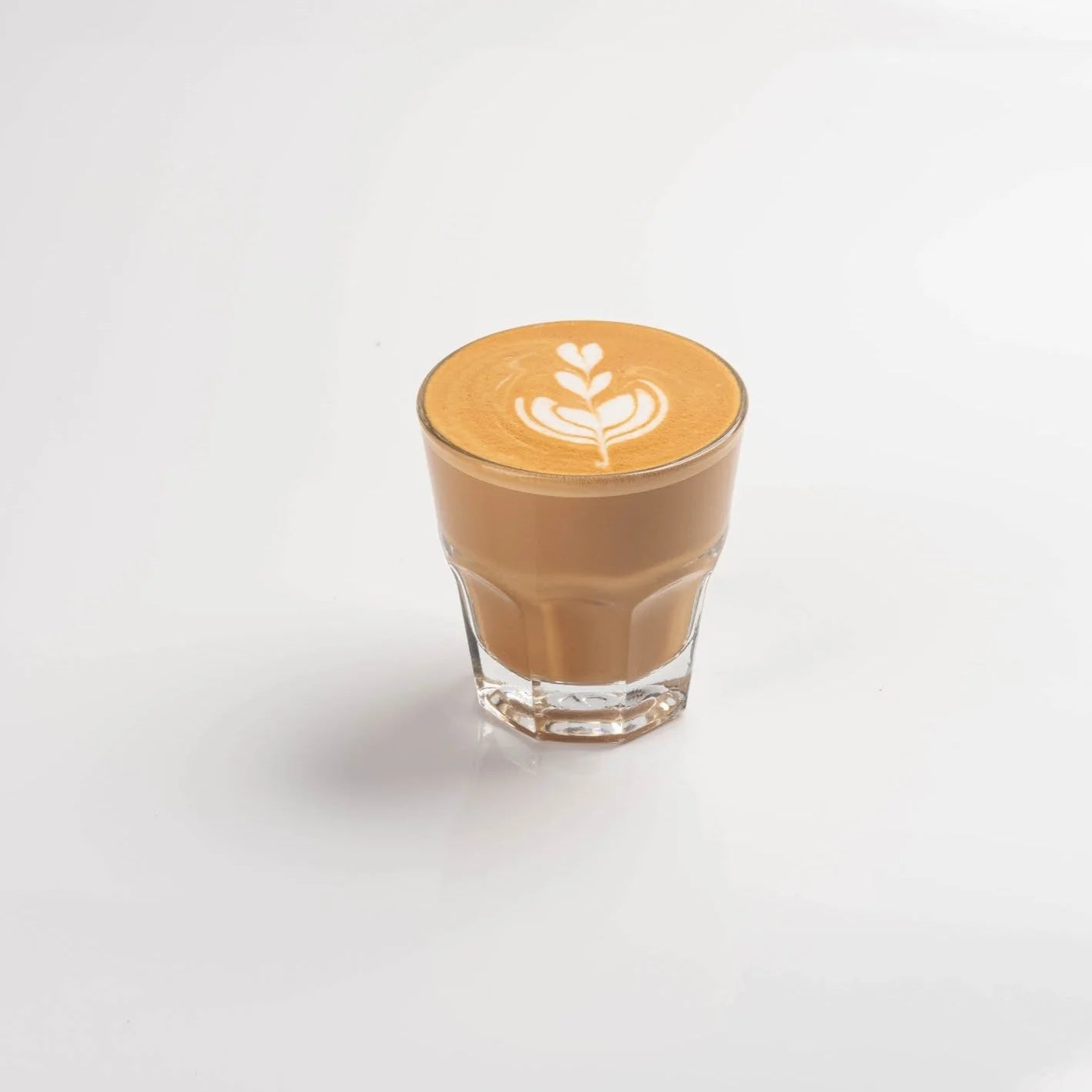 Cortado Glass Cup
Serve up to 120 ml of your favorite coffee drink using this ideal cup for everyday use. This cup's glass stays clear and clean even if you use the cup on a daily basis.
Shop now
FAQs
What is Drip Bag coffee?

Drip bag coffee is a type of coffee that comes in a single-serving bag, similar to a tea bag, with a filter built-in. Simply place the bag in a cup, add hot water, and let the coffee brew to perfection.
Are Drip Bag coffee bags environmentally friendly?

Yes, Drip Bag coffee bags are environmentally friendly as they are made from biodegradable materials and are easy to dispose of. They also eliminate the need for paper filters, reducing waste and helping the environment.
How does Drip Bag coffee taste compared to traditional coffee brewing methods?

Drip bag coffee offers a smooth and rich flavor that is comparable to traditional coffee brewing methods. It is a convenient and easy way to enjoy a great cup of coffee without the hassle of grinders, brewers, or filters.
How long does shipping take?

Shipping times vary based on your location, but on average, it takes 2 hours business days within Qatar and 5-10 business days for international orders.
What payment methods do you accept?

We accept credit cards (Visa and Mastercard), as well as cash on delivery (for orders within Qatar).
How can I get in touch with you?

You can reach our customer service team via email (hello@empirecof.com) or by phone (+974 3331 2268). Our customer service hours are from 9am to 5pm, Sunday to Thursday. You can also reach us through our website's live chat during these hours.