Regular price
Sale price
45.00 QAR
Unit price
per
Sale
Sold out
Origin:
Ethiopia Hassan ware, Darii kojowa
Region: 
Guji Hambela
Process:
Natural 
Varietal:
Heirloom
Altitude:
1700 - 1900 MASL
Notes:
Strawberry, Cranberries, orange,
Dark chocolate finish

If you like your coffee to be fruity, you definitely should bring these capsules into home. For a balanced and fruity cup of coffee everyday, that brings joy and good energy to your day! 


Whether at home or on the go, you can capture happiness in a cup. This coffee is brought to you from the second site of Hassan Ware, Darri Kojowa, this is the furthest station we are working with, but the quality of the exquisite coffee is worth the arduous trek.

This coffee is processed naturally in the perfect conditions to make sure your coffee will please you in a way that whatever your mood is, it will be better, and your energy will be boosted in an incredible way!

6 capsules for six magical moments with Empire

View full details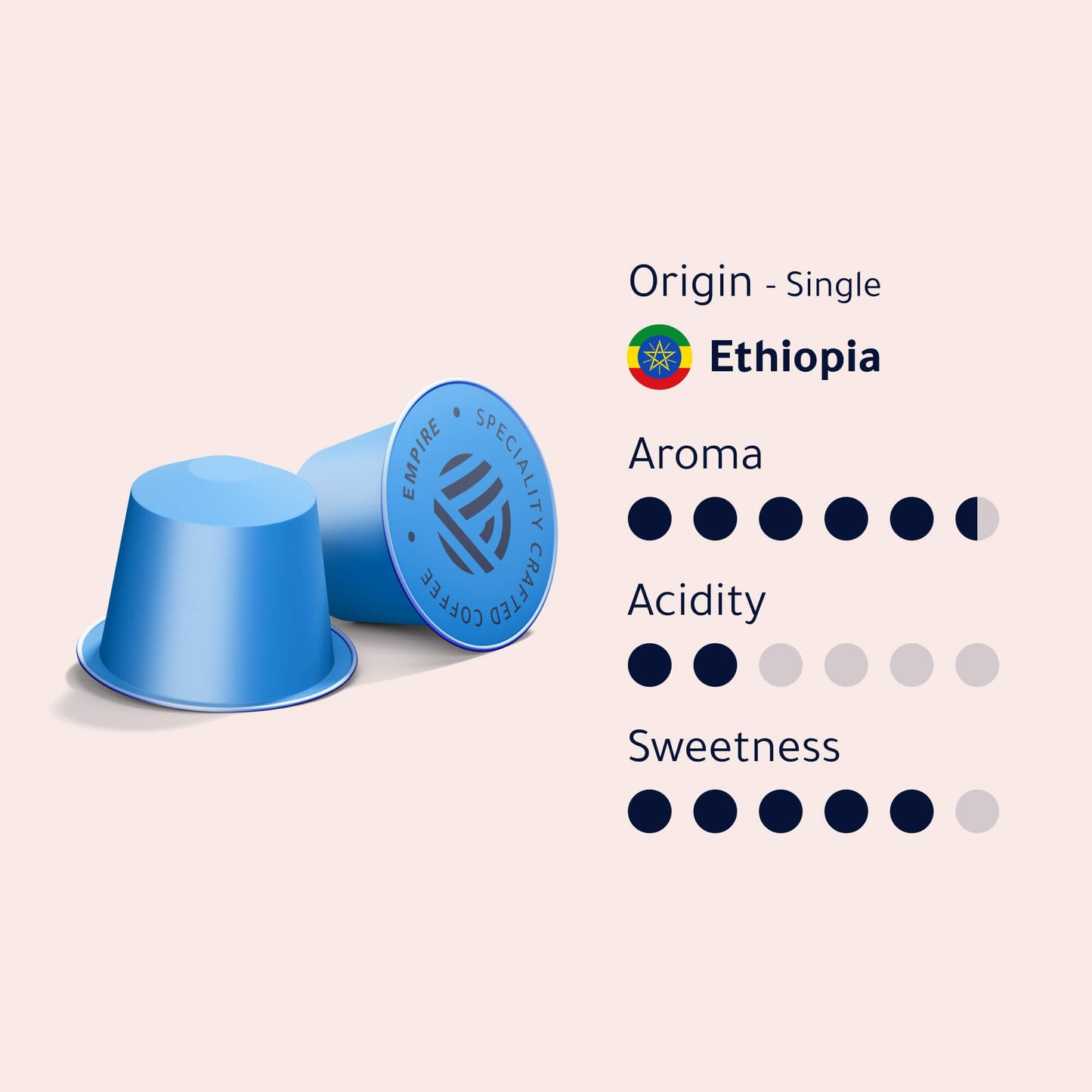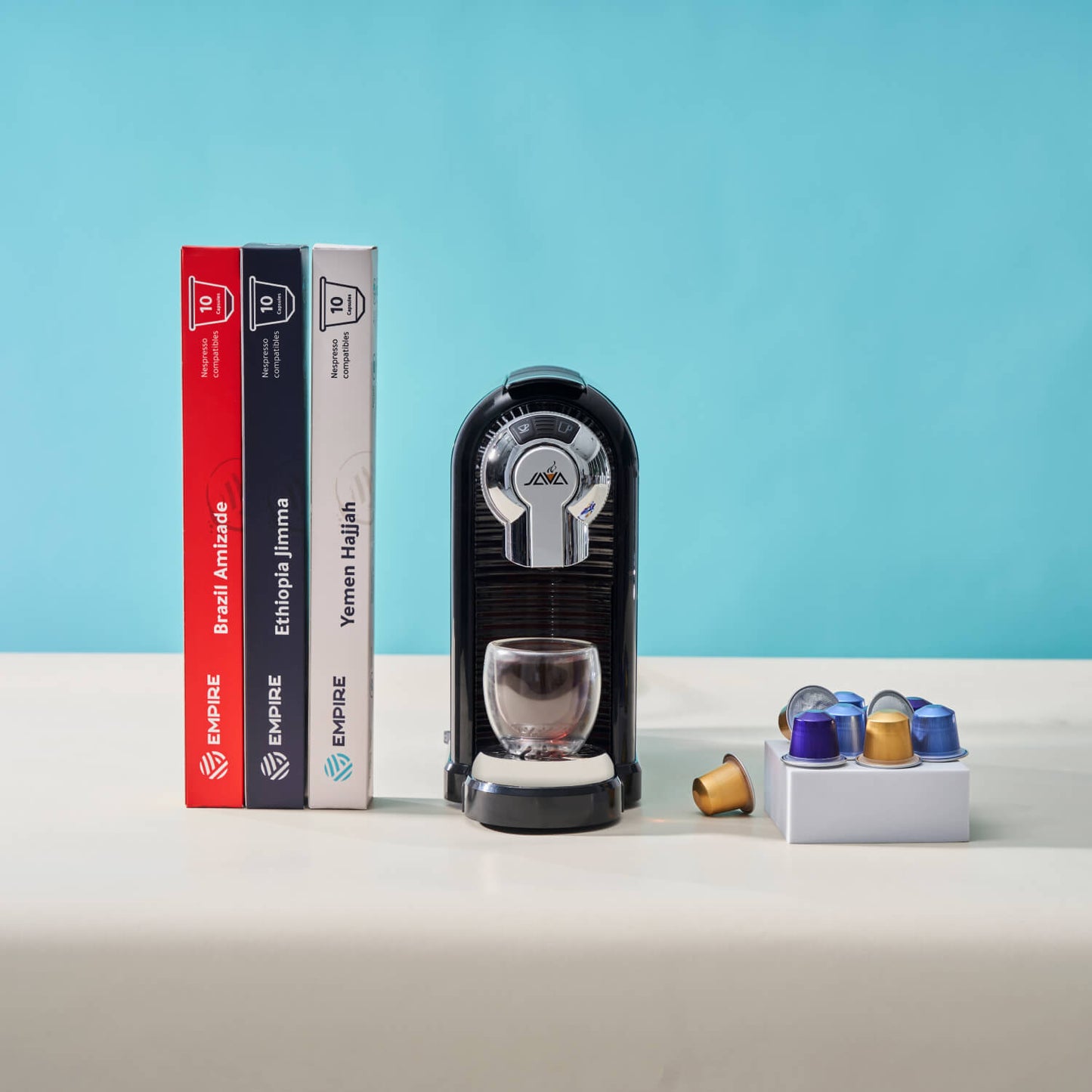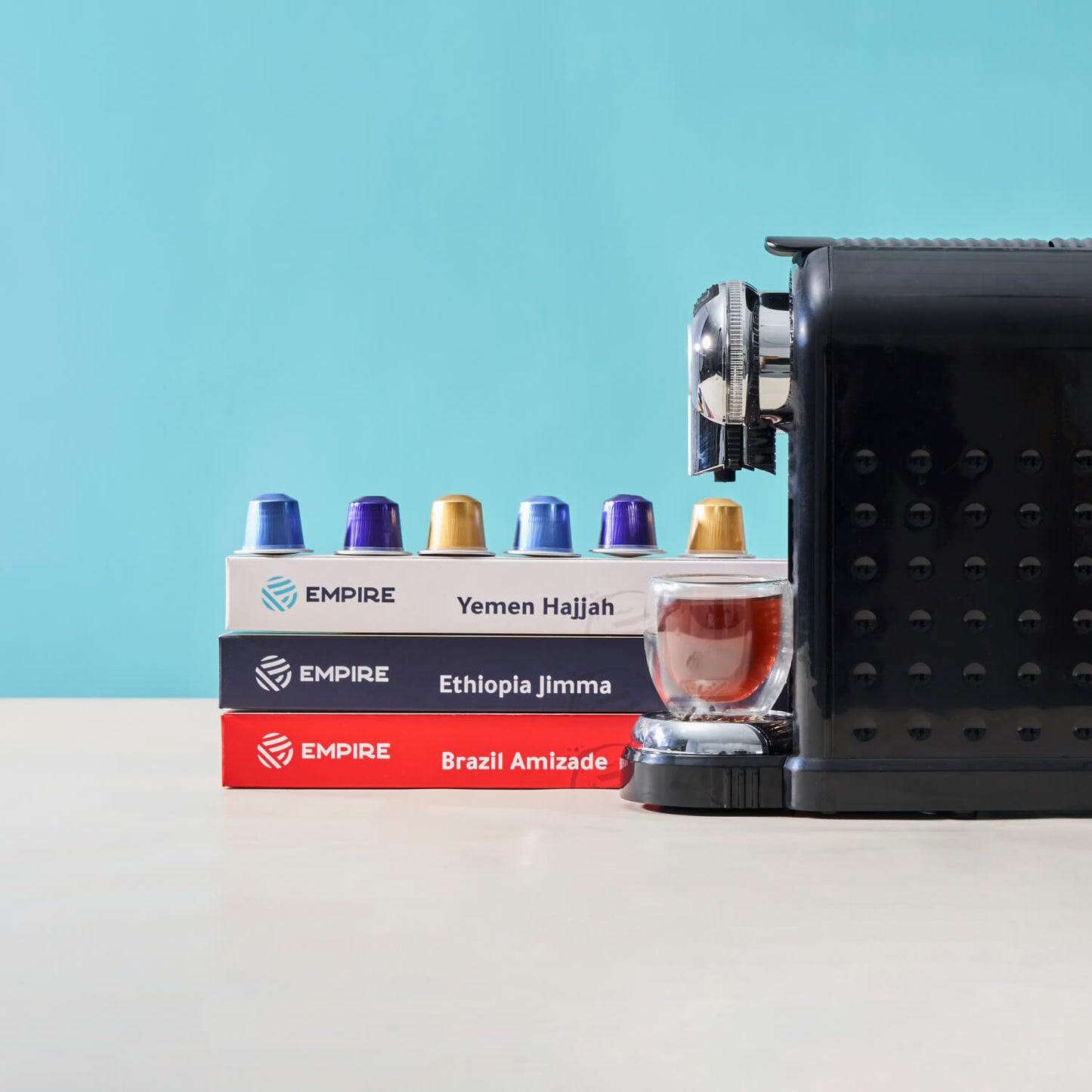 Discover the Unique Qualities of Our Specialty Coffee.
The Perfect Roast

Our roasters are dedicated to creating the perfect cup of coffee. They masterfully roast each bean using traditional techniques and the latest technology to bring out its unique flavor. Whether it's a light, medium, or dark roast, we ensure that every cup is a delicious and satisfying experience. With our passion for roasting and commitment to quality, you can trust that every cup of Empire Coffee will be a masterpiece.
Award-Winning Coffee

We're proud to have received recognition for our exceptional coffee. In 2022, we took home 2nd place in Coffee Magazine's A Shot in the Dark Competition. This award showcases our commitment to quality and passion for crafting the perfect cup of coffee. With each roast, we strive to deliver the best coffee experience possible. Savor the taste of award-winning coffee with every sip of Empire Coffee.
Sustainability at the Core

Sustainability is an integral part of our business. From sourcing our beans from environmentally conscious farmers to minimizing waste in our roasting and packaging processes, we're dedicated to reducing our impact on the planet. We believe that the future of coffee depends on a sustainable approach, and we're proud to be a leader in this field. With every sip of Empire Coffee, you can enjoy a delicious coffee while knowing that you're supporting a company that's committed to sustainability.
High Standard Coffee

Quality is our top priority. We source the finest coffee beans from around the world and roast each batch to perfection, ensuring that every cup is rich, smooth, and flavorful. Our coffee is crafted to meet the highest standards of quality. You can be confident that every cup of Empire Coffee is a taste experience.
Certified for Excellence

We're dedicated to delivering only the finest coffee. Our certifications, including THEQA, IAF, IAS and ISO 2200 & 9001, demonstrate our commitment to providing you with the highest quality coffee available.
Discover Why People Love our Coffee
"Perfect for Busy Mornings"

"I'm always in a rush in the mornings and these coffee capsules are perfect for me. I can make a delicious coffee in seconds without having to grind beans or measure anything. Thanks, Empire!"

"A Coffee Lover's Dream"

"Empire's coffee capsules are a dream come true. I get a delicious, smooth cup of coffee every time, no problems!."

"The Best Coffee Capsules I've Tried"

"I have tried many different coffee capsule brands, but Empire's are the best by far. The coffee is rich and flavorful, and the capsules are compatible with my Nespresso machine. Highly recommend!"
Complete Your Coffee Experience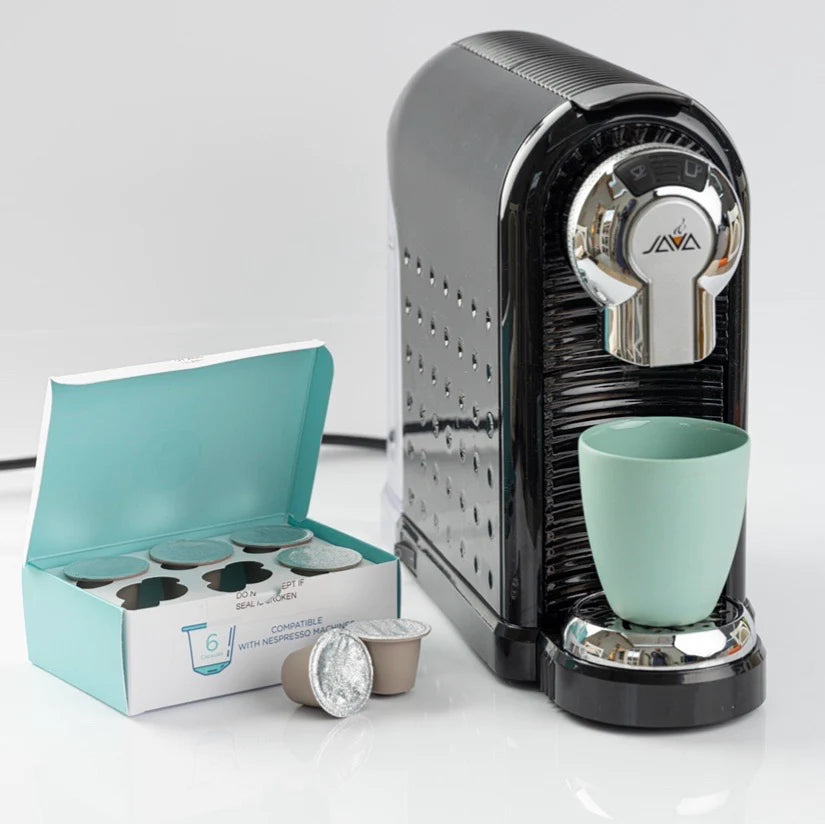 Java Coffee Machine
Treat yourself to a delicious cup of espresso in just seconds with the Java Coffee machine - perfect for home or office use!
Shop now
FAQs
What type of coffee machines are compatible with Empire Coffee capsules?

Our coffee capsules are compatible with Nespresso and other similar machines.
Are Empire Coffee capsules eco-friendly?

Yes, we use only recyclable materials for our coffee capsules.
How long does shipping take?

Shipping times vary based on your location, but on average, it takes 2 hours business days within Qatar and 5-10 business days for international orders.
What payment methods do you accept?

We accept credit cards (Visa and Mastercard), Apple Pay, as well as cash on delivery (for orders within Qatar).
How can I get in touch with you?

You can reach our customer service team via email (hello@empirecof.com) or by phone (+974 3331 2268). Our customer service hours are from 9am to 5pm, Sunday to Thursday. You can also reach us through our website's live chat during these hours.